Windows / Solar activity
Opens (or closes) the Solar activity window.
This window displays the solar activity data issued from the DX-Cluster.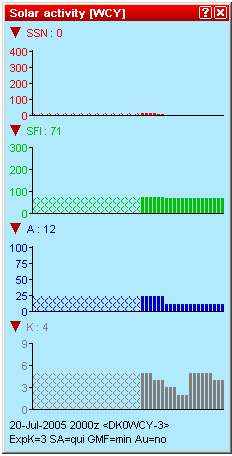 Solar activity window
Hatches replace bars in the graph when data weren't available. The last information issued from the DX-Cluster is displayed in the lower part of the window.
A left click on the red triangle displays or masks the graph. A left click with the shift key pressed displays or masks all graphes in a row.
A detailed information (issued from the DX-Cluster) is displayed when you move the mouse cursor onto the bar-graph.
Contextual menu
Copy the window as an image
Select data to be displayed (WWV or WCY)
Select graph to be displayed (SSN,SFI,A,K)
If you have a wheel mouse, you can set a bigger or smaller font in clicking in it, and use the Ctrl key while rolling the wheel.
The color of title bar can be modified to ease its recognition in a cluttered layout.
Last update : 2005 Jul 20